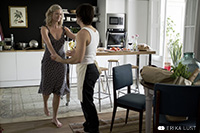 A Boy Toy is the younger male partner in a relationship. The opposite would be a Sugar Daddy, an older male partner. Both terms are used in h and gay realms.
Celebs love their boy toys
Famous celebrities like Madonna, Jennifer Lopez and Sharon Stone all seem to have a thing for younger men.
For obvious reasons in the bedroom, Boy Toys can last longer, go harder and more frequently. As Madonna put it: "I like young men. The don't know what they're doing. But they can do it all night!"
Young men are often more open to experiment and go exploring. They like to discover new skin using their hands, mouth and other "ahem" appendages. They love bedroom gymnastics, especially when they're not confined to the bedroom.
Not Forever
Boy Toys are perfect for a mature partner looking for an ego boost. You never know if it's just a game or if it's sincere. Sometimes little emotional commitment makes things easier and more straightforward. But be aware, not all are looking for long term relationships.
As long as expectations are communicated up front, men and women can have an amazing time with Toy Boys not to mention lots of incredible sex.