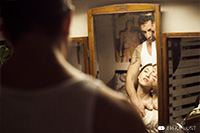 Bust sex has a lot of names. Some call it "Spanish massage," others say "French fuck". There's other meanings depending on whether it's straight or gay sex.
In the straight version of bust sex, a man will rub his cock between the clenched breasts of a woman. Eventually he can orgasm and this kind of skin contact is considered safe. As long as the sperm isn't ejected into the eyes, mouth, nose or any other orifice during ejaculation .
When two women are involved, it is common practice to rub the hard nipple of one woman onto the pussy of the other woman to stimulate both women.
Two men can also have bust sex. Although it is less common because most men do not have large enough breasts. But there are of course fetishists for everything and this type of stimulation is also possible with the right people.
Looking for more sexy body parts and what you can do with them? Read on:
Legs
,
Breasts
,
Butts