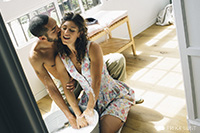 A Variation of Doggy Style...
The easier version of doggy style is spooning. Partners lie on their sides and the person in back penetrates either the anus or vagina. In this position hands are free to explore their partner's body and pay closer attention to breasts, nipples and other erogenous zones.
…what's in a name?
The name comes from the similarities in appearance between spoons nested together and the two people. Another advantage of this position is increased physical contact and the partners can mold themselves together.
Peaked your interest? Want to read more? Then try these links:
Anal Sex
,
Vanilla
,
Oral Sex