Role Play
Role Play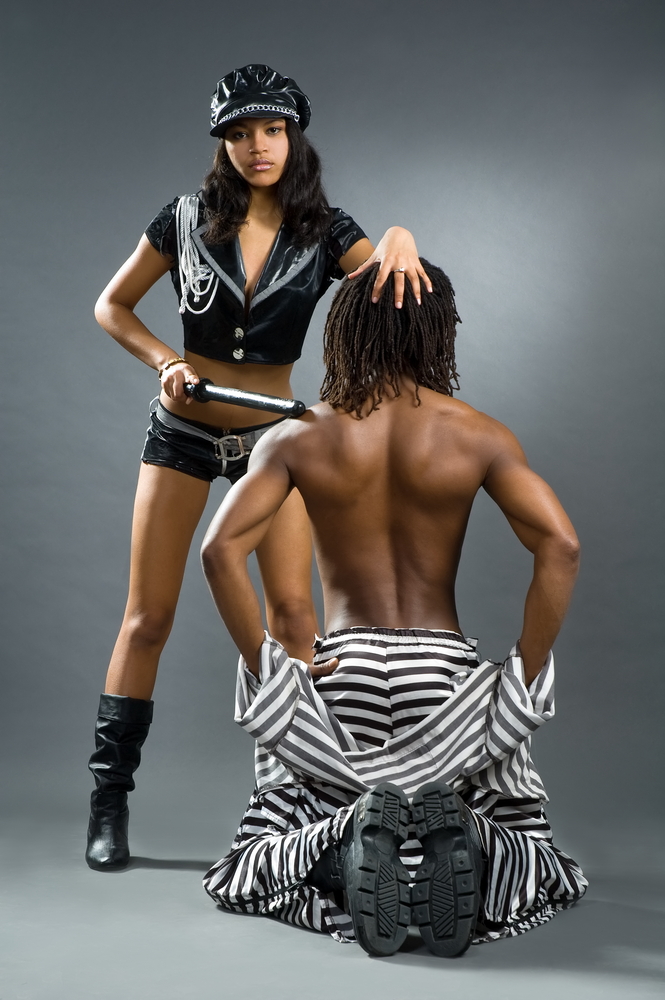 Role play (not just for D&D nerds!) is when people plan clothes, locations and interpersonal dynamics to for actions leading up to sexual activity. Most of us think about the sexy nurse and the patient, or the schoolteacher and the student, but it can be less corny and more subtle than that. Some couples play at being strangers having a one-night stand, and of course there is plenty of inspiration to be found in BDSM.
Dominance and submission, psychological games, or spanking and the like can all be part of role playing. Role plays are a healthy and safe way to add variety to a relationship. The fantasies are often not literal, but generally use themes of power, innocence, fear, comfort, authority, unpredictability or tenderness, that on some level appeal to us. If all partners involved can have fun and get off, role playing can open up unlimited new worlds.
If you're interested in this you could also have a look at:
High Heels
,
Women's Lingerie
,
Uniforms
Discussions and topics about Role Play
I'm just starting to study this topic I know a little if been studying karma sutra it's not karma satra that ends with you eating somone alive. Karma sutra is Roman sex magic. I know some intermedit s ...
the question has come up, is the fantasy meant to be realized or, is it meant to stay a fantasy? i've never been with a guy but it's been on my mind for years. it's been a big part of my fantasies for ...
I'm curious to know, and not for my own benefit. But, what are the interests in interracial sex, and why? Is it the skin contrast, curiosity about another race, to see if the myths are true? ...
Articles about Role Play
Sex columnist, photographer and sex blogger Molly Moore responds to a reader who's afraid to go outside their sexual comfort zone. How do you go about sexual experimentation and comfort zones with you ...
Most of us on online dating sites have gotten them—the dreaded dick pics—including some of my heterosexual male friends. Which always seemed odd to me. Do people even read the 'about me' sections of d ...
Sex columnist, photographer and sex blogger Molly Moore gives her best advice to a woman wondering whether or not she should live out her sexual fantasies. Dear Molly I have a lot of sexual ...
Members who are looking for Role Play
Love being someone toy and being used and abused. I'm totally submissive and absolutely devoted to my role and my mistress/master. Enjoy being an o...
Fetish, BDSM and Bizarre
●
50km
around
Hungary
,
Budapest
Dom. Master seeking ?% Obedient Sub & SeXxXy 2 puddle n play .I'm a Dom M 50,5'7 ,130 phys. Fit who likes an obedient sub who knows that what Mas...
Fetish, BDSM and Bizarre
●
25km
around
Canada
,
Edmonton
I just want sex talk and maybe a friend with benefits.:) I love talking sex its like an addicition. I want a woman to drive me wild for hours and a...
One Night Stand
●
26
to
45
years ●
10km
around
USA
,
Grovetown
Exactly what the headline says I'm new to most of this I do however know what I want to explore. Ive been recently fantsising about knife play, edg...
Fetish, BDSM and Bizarre
●
18
to
55
years ●
25km
around
USA
,
Saint Cloud
Just your average middle age guy who loves to eat pussy for hours. Love outdoor play, dominant woman, party and play with kinky couple, anything ou...
Fetish, BDSM and Bizarre
●
200km
around
USA
,
Pickens
Similar terms for Role Play
Similar terms: Doctor and Nurse, Doctor Games, Nurse Games, Gynecologist and Patient, Teacher and Student, Young/Old, BDSM, Adult baby, Pony Play, Age Play, Infantilism, Fantasy, Animal Roleplay, Sex, Role Play, Role Playing, Safe Word,