Footjobs
Footjobs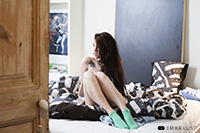 Sexy foot games are not just for foot fetishists. When you use your foot to stimulate your partner, this is called a foot job.
Erotic Fun for Both Sexes
Massage his cock with both feet to give him a special treat!
Some women also like it when their pussy, breasts or ass are massaged with their partner's foot.
Got you hot to trot? Check out more fetishes:
Nylon
,
Sock Fetish
,
Women's Lingerie
Articles about Footjobs
Sex in the shower is fun. It's hot (sometimes literally), it's intimate, and it provides lots of varied and exciting sensations. And like any kind of fucking, it's better if you know what you're doing ...
So the year is almost done and the only remaining month is December, the month of Christmas shopping, staff parties and family gatherings. Even if you love all those things, I am sure you are hopeful ...
Role play can provide you with an amazing opportunity you explore your sexual fantasy with your partner(s), but how do you bring it up? Fuck.com summarized the best advice to role playing games and ho ...
Members who are looking for Footjobs
Similar terms for Footjobs
Similar terms: Footjob, Foot Job, Foot Fetish, Footsex, Toejob,