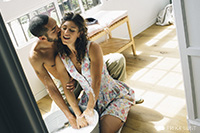 The term Doggy Style is pretty self explanatory, and it is probably one of the most popular sexual positions in the world.
The bottom kneels on all fours, offering up the goods for either licking, fingering or fucking. The top comes in from behind using whatever pleasurable device for stimulation. For example: tongue, fingers, dick, dildo, strap on, vibrator, clean fruit or veg or any other toy.
For a woman on the bottom, her clitoris can be easily stimulated. For a man on the bottom and through anal sex, his prostate can be easily accessed. Another advantage of this position is the person on top has their hands free to explore and stimulate their partner's body further.
Did this get you all hot and bothered? Want to read more? Then follow the links to find out more:
Anal Sex
,
Vanilla
,
Oral Sex