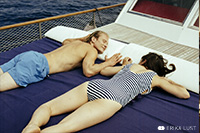 For many people their butt cheeks are the best foreplay ever.
Some people find it a massive turn on when their partner glides their cock up and down the small of their back and along the crack between their butt cheeks. It can be also highly stimulating for many women when it caresses her labia and anus.
Give the Cheeks a Good Rub
Many men find a beautiful ass just as amazing as a gorgeous set of breasts. With cheeks tightly closed together and a hard cock pushing inside, both partners can experience incredible orgasms.
What does the woman get out of it?
For a lot of men this type of sex is enough but for many women it's just a bit of nice foreplay and look forward to vaginal sex afterwards. With a bit of lube the cock will slide right in to a pussy or anus, depending on your preference of course. Women usually say that cheek only sex (with no penetration) gets them excited that a man finds their ass that sexy.
Butt Cheek Massage
In this variation involves one partner massaging the other person's oiled body with their butt cheeks. A word of caution the person receiving should be able to handle the top person's weight.
Get off your ass already and try it out! Or if you want more:
Anal sex
,
Fingering
,
Butts